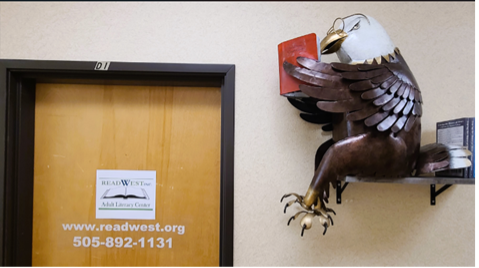 Read November 7, 2009 - October 2023
Prepared by Yvonne Wise
Updated Cyndy Ratliff
ReadWest began as the Westside Literacy Volunteers and was the brainchild of Barbara King, Corrales librarian, who contacted the New Mexico Coalition for Literacy in Santa Fe in 1988, to ask for assistance in beginning a literacy project to serve Westside residents. The Coalition sent Jesse Kline from Taos to train the first 28 tutor volunteers and help the new coordinator get started. The Westside literacy program was also affiliated with the national Literacy Volunteers of America organization.
Melinda Taylor was 23 when she first heard about the new literacy program at a November 1988 meeting at the Corrales Library. The new literacy program was housed in the Corrales Library until 1990 when they moved to the United Way Westside Service Center in All Saints Lutheran Church on Coors Road. Seventy tutors and students worked on student goals the first year. The service area was Taylor Ranch, Paradise Hills, Corrales, Rio Rancho and Bernalillo.
Structure for the literacy program; free one-to-one tutoring by volunteers and strict adherence to meeting student-identified goals, is essentially the same now as it was in 1989.
Articles of Incorporation for ReadWest, Inc.-LVA were signed by Melinda Taylor, Alois Weber, and James Tinkcom as first directors on December 14, 1989, is formally filed with the state of New Mexico.
ReadWest was welcomed to Rio Rancho by Mayor Pro Tem Carl M. Zander on
February 2, 1989.
ReadWest received its first grant to expand services from the state legislature in March 1990.
The first Board of Directors, appointed to set goals and gain community support for the organization, were: Rudy Grado, president; Claire Harrison, vice president; Pam McKellar, secretary; John Jennings, treasurer; Rudolfo Anaya; David Matthers, Genie Ryan; Tom Swisstack; Jim Tinkcom and Alois Weber.
Jeanette Miller was named the executive director of ReadWest in December 1990. She, as did Melinda Taylor before her, served without staff. Goals set by the board of directors included increased visibility for the organization and more interaction with other adult literacy efforts in New Mexico.
ReadWest's first salaried Director, Jeanette's office space was donated at Panorama Plaza 1594 Sara Road. When a paying customer came along and displaced the program, Jeanette, with a few dedicated office volunteers, was able to keep the program alive and support 70 tutors and students while operating out of her own kitchen.
ReadWest moved to new quarters at the Rio Rancho Car Care Center in August 1992. Mim and Dave Heil and Brian and Pat Frieder of Car Care Ltd provided the 400 square foot office space. City Councilor Tony Popper helped bring the owners and ReadWest together. The Frieders generously paid ReadWest's utilities. Mayor Tom Swisstack started the grand opening ceremonies with a ribbon-cutting ceremony.
The three-year-old adult literacy tutoring program was awarded $7,000 by the New Mexico Coalition for Literacy that year. The grant was primarily for the development of an English as a Second Language component to the tutor training program which had concentrated on basic reading improvement for students. English as a Second Language is the largest component program of ReadWest today.
ReadWest was awarded a grant with salary for the first Volunteer Coordinator in 1995.
Notice to vacate the Car Center location was received in 1995 because, again, a paying customer had been found. ReadWest's Volunteer librarians came to the rescue by contacting Lou Lapidus at the Rio Rancho Jewish Center. Mr. Lapidus was the teacher for the Center's Hebrew School. When thanked for allowing the literacy program to share space with the children, he said, "You do good work, and we should have you here." Board Member Roger McNeil, director of the Rio Rancho Community Corrections Center, arranged for some of his rehabilitated prisoners to move ReadWest to the Jewish Center on March 16, 1996. Fitting help, since 75% of incarcerated individuals cannot read well enough to fill out a job application.
ReadWest has grown from a single room to a full Literacy Center with 6 classrooms for student and tutor meetings, a tutor training site and a large space for student group classes. ReadWest owes tremendous gratitude to the Rio Rancho Jewish Center for believing in our "good work" and for providing this comfortable, inviting place where adult students can find help with their debilitating low literacy needs.
ReadWest's budget for 2016-17 was $101,500.00, a far cry from the $7,000 budget in 1992. Today ReadWest trains and supports 277 volunteer tutors who help more than 398 students –with a director and two staff, a dedicated Board of Directors and wonderful office volunteers.
ReadWest is the longest, continuously operating adult literacy organization in the greater Albuquerque area. We attribute this to the quality and dedication of the staff and to the dedicated volunteers who provide thousands of hours of service each year. The value of this service to the community is enormous, but the value to individuals is life changing. And considering that literacy is generational – passed on from generation to generation - the value to future generations is immeasurable. Student requests for help remain high. With your help, we will not have to turn anyone away.
The ReadWest Directors who followed Melinda and Jeanette have contributed so much to the growth and success of our award-winning organization:
ReadWest Directors from 1990 to 2024
Jeanette Miller 1990-1995
Yvonne Wise 1995-1999
Elizabeth Thompson 1999-2002
Patricia Quinn 2002
Pat Wheling (acting Director 2002)
Cindy Hibler (2002-2004)
Susan Markin-Ryerson (2004-2008)
Will Steinsiek (2008- 2013)
Muncie Hansen (2013- 2021)
Cyndy Ratliff (2021 – Present)
Program History Highlights
In 2006, ReadWest, Inc. secured full Proliteracy Accreditation Program status through the guidance of Executive Director, Susan Ryerson. Today, ReadWest continues to meet the 16 Standards of Accreditation as proposed by Proliteracy as the foundation of our literacy program.
In 2010, Will Steinsiek oversaw the development of the ReadWest Computer Literacy Program. An award of $22,500 from ASML Foundation was granted to create a computer instruction course for emerging English readers. Lisa Baremore was hired to design the course and the program was piloted. Grant funds were used to purchase 10 laptop computers to conduct the 6-week computer literacy instruction. The first year, 75 individuals completed the initial computer course. The program is now taught one-to-one and is accessible on the ReadWest Website.
June 2015, ReadWest was named Adult Literacy Program of the year by the New Mexico Coalition For Literacy (NMCL). Executive Director, Muncie Hansen accepted the award at NMCL's Annual Meeting.
In 2018, ReadWest's resource library of more than 4500 adult literacy books and materials were cataloged and coded by volunteers and our Program Coordinator. Funds for a digital library system and scanner were donated by enthusiastic tutor volunteers. Program Coordinator, Cyndy Ratliff researched, developed, and supervised hundreds of volunteer hours to implement the system. The launch was celebrated with an Open House Library Tea Social in March 2018.
In October of 2018, ReadWest vacated the 2009 Grande Blvd address after 22 years and moved to 103 Sundt Dr. NE where we were housed for 3 ½ years.
On June 6, 2022, we opened the doors to our new facility.  Amazing Grace Personal Care Services, Inc & Enterprises purchased the 4131 Barbara Loop SE building and invited ReadWest to become a tenant.