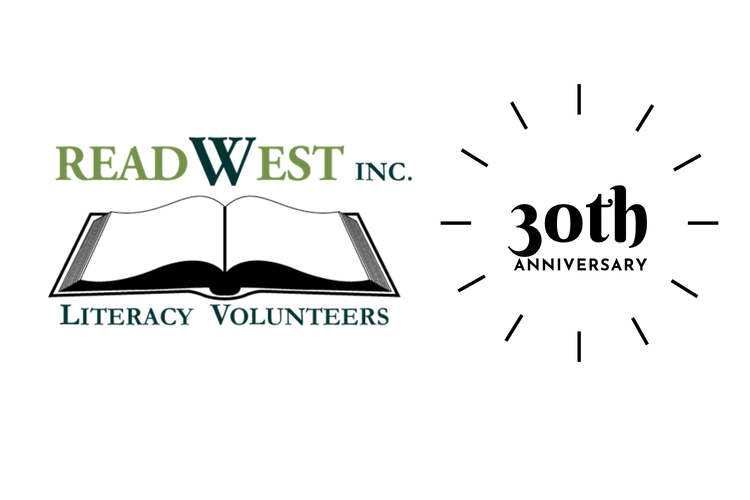 Summer Greetings!
July is the start of another Year at ReadWest. This year is unique as we celebrate 30 years of providing literacy to adults in New Mexico.
Our calendar is filled with commemorative events. This month we rolled out our 30th Anniversary Letterhead and signatures that we will use throughout the year.  We will formally get the party started with our Dia de Los Muertos (Day of the Dead) Dinner at San Ysidro Chapel in Corrales. Tickets for this dinner and silent auction will go on sale later this fall. In December our Annual Meeting and Luncheon will be a FREE 30th Anniversary Celebration featuring ReadWest Student Success Stories and a special guest. More celebratory events are planned, so stay tuned!
ReadWest experienced many changes last year. Our kind friends helped us settle in a new home after 22 years at our former address. However, one thing did not change. ReadWest Tutor/Student pairs met for literacy instruction continuously. Many group classes were relocated to senior centers and churches while we remodeled. Despite the facility move, ReadWest Volunteers logged 15,678 hours of service during the 2018-19 fiscal year. The Independent Sector estimates a volunteer tutor's wage at $25.43 per hour. This means the ReadWest Adult Literacy Program contributed $398,691 of literacy service to our community. This impressive contribution was achieved by the dedicated volunteers at ReadWest. Volunteers are indeed the heart of our program. Thank you all for believing in our mission.
If you'd like to support our mission financially, consider joining our special anniversary 360° Donor Circle.
Sincerely,
Muncie Hansen
Executive Director
ReadWest's mission is to provide quality one-to-one tutoring to adults seeking to transform their lives through enhanced literacy skills.