January 29, 2019 – ReadWest, Inc. received a $10,000 grant from the New Mexico Gas Company – an Emera Company – to support its adult literacy services. Pictured below are NM Gas Company VP Operations and ReadWest Board of Directors VP Ray Sanchez, ReadWest Executive Director Muncie Hansen, ReadWest Board of Directors President Todd Clark, and New Mexico Gas Company President Ryan Shell.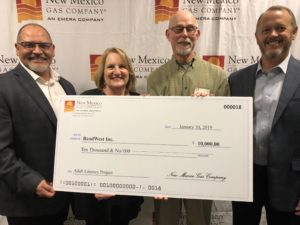 About New Mexico Gas Company
New Mexico Gas Company cares. We believe in giving back to the communities where we live and work. Our employees do that through financial donations and, most importantly, by volunteering their time. Our staff participates in many activities that help communities across New Mexico.
For more information, visit  https://www.nmgco.com/