Please help us welcome our new Assessment Coordinator. Brianna will be working part-time with ReadWest and we are excited to have her on board. Below is a little about her in her own words.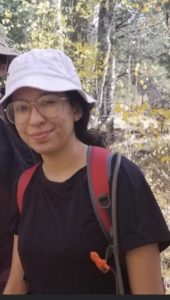 My name is Brianna Mendoza. I am a recent V. Sue Cleveland High School Graduate. I consider myself an energetic hard worker who goes after what she wants with tenacity and follow-thru. While attending high school, I attended classes at CNM and maintained a 4.0 GPA at both schools. I was first chair as a Tenor saxophone player in Marching, Jazz and Symphonic band for all four years of high school, I was in AP classes whilst juggling a part time job as well. In the winters I love to go skiing and in the summers I do enjoy a good hike, so you could say I'm very outdoorsy. My family is also one of the 12 original families that settled Placitas, the recipients of the San Antonio de Las Huertas Land Grant so I am very proud of my heritage. I am in the process of becoming an official member on the board since I recently became eligible. My next big goal is to obtain my Bachelors from UNM. 
I am excited about the next phase of my life and am looking forward to being a valuable team member of ReadWest. I hope to learn so much from everyone within the organization. Thank you for the opportunity.